SUMMARY
In a nutshell, you can depend on Rocket Japanese to learn Japanese to a conversational level. Although it can also help you to become fluent in the language, it will require lots of time and effort as it is not usually as fast and reliable as classroom learning. Nonetheless, you can use Rocket Japanese to learn Japanese at your own pace without any hassle
Positive things about Rocket Japanese
It is a comprehensive course that covers different aspects of Japanese.
It has an inbuilt leaderboard and gamification systems that will motivate to learn more.
It has a free trial version that allows you to test the tool before buying it.
It has several great dialogues that can help you to learn Japanese for everyday use.
It is available on both mobile apps and web versions.
It uses different interesting learning tools.
Negative things about Rocket Japanese
It comes with lots of spam messages and affiliate ads.
It is slightly costlier than many other tools for learning Japanese.
The customer support doesn't respond to clients on time.
Level 1 costs $99.95
Levels 1 & 2 costs $249.90
Levels 1, 2 & 3 costs $259.90
You are less than 60 seconds away from getting started.
Ready to not just speak Japanese, but to become part of Japanese culture? Take a free trial to discover how Rocket Languages does more than give you a new vocabulary.
We immerse you in new places and cultures.
Many Japanese learning courses that you will see on the internet have monthly subscriptions. In other words, you will need to pay for the lessons every month until you achieve the level of fluency you want. But the case is different with Rocket Japanese as it only requires a one-time payment.
Using the one-time payment, you can decide when and how you want to learn the Japanese language without rushing. This makes Rocket Japanese the best learning tool for individuals with a busy schedule. Also, it allows the tool suitable for people that are learning independently.
If you are not satisfied with the quality of the course after buying it, you have 60 days to request a refund of your money. This 60-day money guarantee further shows the confidence of the course creators in the quality of Rocket Japanese.
What Level is Rocket Japanese
Foremost, Rocket Japanese is divided into three basic levels:
Rocket Japanese has three different levels – levels 1, 2, and 3. Each level has a similar structure and covers a wide range of topics that can help you to become fluent in the Japanese language. Also, you can use the Rocket Japanese for studying for the Japanese Language Proficiency Test N3, N4, and N5.
You can buy the resources for level 1, 2, or 3 individually. Otherwise, you can go for a resource that covers the three levels of Rocket Japanese. It should be understood that each level of Rocket Japanese costs approximately $150.
Does Rocket Japanese Teach Grammar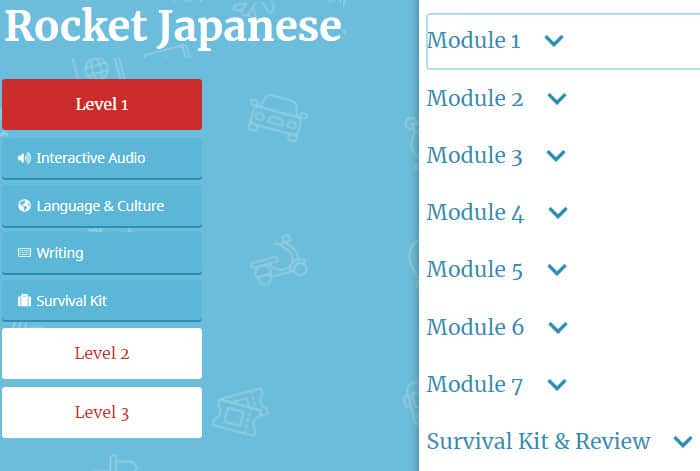 Rocket Japanese is one of the resources under the well-known Rocket Languages, which is an online platform for learning different languages. According to the company, Rocket Japanese offers you practical lessons that will set you on the path to becoming a fluent speaker of the Japanese language. In view of this, you may be wondering whether Rocket Japanese teaches grammar.
Rocket Japanese covers different areas of grammar
Without a doubt, Rocket Japanese teaches grammar and puts lots of emphasis on how you can use it to improve your overall understanding of the Japanese language. In fact, this language resource does justice to the grammar needed for Japanese through numerous means that will be explained below.
The approach of Rocket Japanese to teaching grammar
Generally, the Japanese language is believed to be one of the hardest languages to learn for most individuals. This is especially true if you are a native speaker of English or other similar languages. This is because of the significant difference between the grammar of English and Japanese. As a result of this, the learning method used for studying the grammar of English, Spanish, French, and other related languages will likely not work at all for Japanese.
However, some learning agencies use the same method for teaching all languages. Hence, they make it even more difficult for their students to understand Japanese. Factually, a student can learn through this method for several months without understanding grammar in the Japanese language.
Nevertheless, Rocket Japanese is quite different. The company uses customized approaches to teach students the grammar aspect of Japanese. According to the platform, more than 30 advanced learning techniques are utilized to help students learn Japanese grammar, vocabulary, etc. These techniques don't only improve your learning accuracy, but they will also reduce your learning speed.
Primarily, Rocket Japanese has two types of lessons – audio lessons and language culture lessons. The audio lessons explain briefly the Japanese grammar but focus more on vocabulary. But the language culture lessons are primarily developed to explain grammar.
The language culture lessons help you to learn grammar in different ways, such as:
They describe different aspects of Japanese grammar in a comprehensive yet understandable way. These lessons are developed in a way that ensures that different subjects are covered through mimetic expressions, honorific language, verb pairing, and lots more.
They explain everything you need to know about how to use grammar in Japanese.
With the aid of Rocket Japanese, you can rest assured that you will learn the nitty-gritty of how to use grammar in the Japanese language.
More details about Rocket Japanese
Having explained how Rocket Japanese can assist you to learn grammar in the Japanese language, let's show you more details about the online course.
In general, Rocket Japanese has three different course levels. Every course level comes with about 7 to 8 modules that are filled with audio lessons. Similarly, there are additional 7 to 8 modules that focus on language and culture lessons. Every module of Rocket Japanese comprises about 3 to 8 lessons.
This means that you will learn lots of grammar under the various lessons in the modules of language and culture. On average, each Rocket Language course will offer you about 40+ lessons on grammar. However, that is not all about this resource. You can also learn several other things, such as vocabulary, kanji, etc.
Under every level of Rocket Japanese, there are survival kit lessons, which are referred to as a bonus segment. This segment contains audio phrasebooks that teach different areas of Japanese that are used regularly. Normally, the survival kit lessons cover common subjects such as love and romance phrases, house vocabulary, and lots more.
When you are done with the survival kit lessons, it should be easier for you to communicate about day-to-day activities in the Japanese language.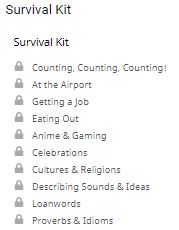 Lots of Japanese pronunciation
Like other languages, you cannot speak the Japanese language successfully without pronouncing the words correctly. Fortunately, Rocket Japanese helps you a lot in this area. Generally, a Japanese speaker only needs 300 words to speak Japanese conversationally, but Rocket Japanese shows you more than 7240 words and phrases.
This Japanese course also has a top-of-the-range voice recognition tool that helps you to pronounce Japanese words correctly.
In addition, Rocket Japanese teaches numerous kanji characters. It is worthwhile to note that you need kanji to write and read Japanese words and sentences correctly. Although this Japanese writing system is quite difficult to master, Rocket Japanese does a great job at explaining it. After going through loads of kanji lessons in Rocket Japanese, you should have no problem with writing and reading basic Japanese sentences.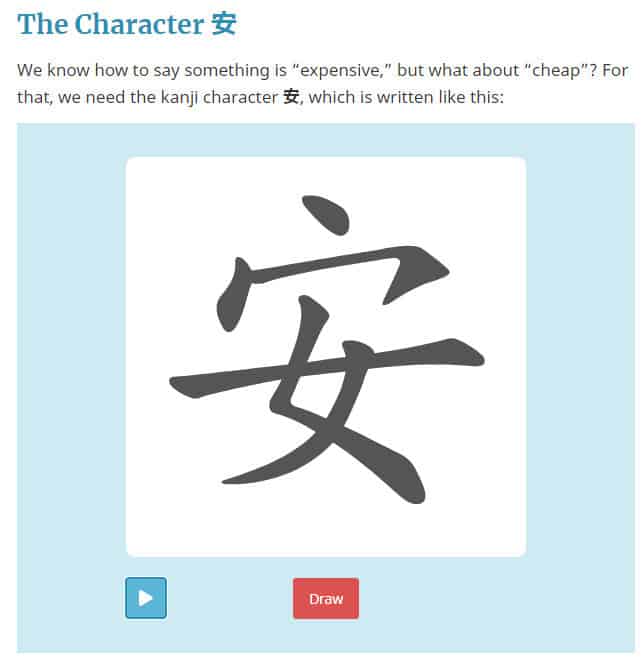 Many Japanese courses have dated materials. In other words, they don't offer any updates on the resources they are using for teaching students. Luckily, Rocket Japanese is not one of such courses. This course offers up-to-date lessons and resources that can help you to improve your study of the Japanese language. You can expect fresh improvements and changes to the resources from Rocket Japanese.
Access whenever and wherever you want
Another important thing about Rocket Japanese is its 24/7 lifetime access. As long as you have bought the course, you can access it whenever you want. The lessons and reference materials will always be there for you to use.
In addition to this, Rocket Japanese allows you to download the lessons on your computers, smartphones, or other mobile devices. With this, Rocket Japanese can be used as an offline podcast and eBook. This means that you can access the content when you are offline without any issue.
As shown above, Rocket Japanese is an exceptional Japanese course that teaches Japanese grammar in detail. Through its language culture lessons, this program uses state-of-the-art resources and methods to cover the most important things that you need to learn about grammar. So, if you are concerned about Japanese grammar, Rocket Japanese is one of the most reliable courses that you can use.
Is Rocket Japanese a Good Website for Learning Japanese?
As explained earlier, Rocket Japanese is an excellent website for Japanese learners. But why is this so? Let's take a look at some of the good things about Rocket Japanese.
Unlike many resources/websites that lump all lessons together, Rocket Japanese ensures that all lessons are properly segmented. Overall, there are three different course levels on the website. Each of these course levels has around 7 to 8 modules which consist of several audio lessons. Every module comes with 3 to 8 lessons. The modules are categorized into two main outlines, which are language and culture lessons.
Based on the structure of Rocket Japanese, it is quite easy for anyone to follow the lessons. Even after stopping the lessons for several weeks, you can easily continue from the part where you stopped.
Some courses only focus on some particular areas of the Japanese language. But Rocket Japanese doesn't do so; it provides a well-rounded learning experience to each user. From grammar to pronunciation, reading, etc., this website makes sure that nothing is missing. In fact, you will also be introduced to numerous kanji characters as you use this website to learn Japanese. This is a well-rounded learning experience that will speed up your learning journey.
The creators of Rocket Japanese understand that you may have a busy schedule. As such, it may be difficult for you to study at some periods. Therefore, these lessons offer great flexibility that you can hardly find in other online courses. You can decide when and where you want to have your classes.
Mobile and desktop versions
Rocket Japanese is available on both desktop mode and mobile app. What this means is that you can use the website on your computer or simply download its mobile app to continue learning Japanese.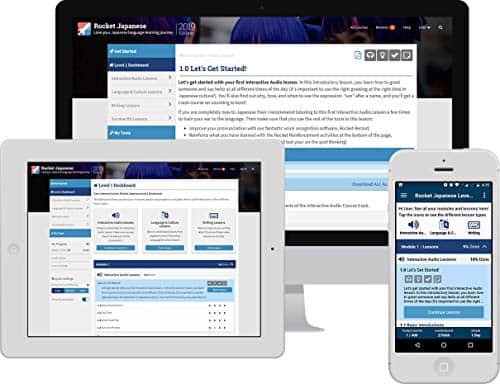 Once you have paid once for the lessons, Rocket Japanese provides lifetime access. That is, your one-time payment allows you to use the website whenever you want, even if you decide to wait decades after paying. Therefore, this program enables you to learn the language at your own pace without being bothered about your money.
In addition to this, Rocket Japanese offers a free trial period. So, if you are not certain about this website, you can use it for free for some periods. Afterward, you can pay and continue using it if you want.
Rocket Japanese makes learning easier and more enjoyable for everyone by providing different learning tools. One of these tools is a voice recognition system that is specifically meant for improving the way you learn how to pronounce Japanese. You also have access to survival kit lessons that help you to master the most important phrases and words for daily conversations in Japanese. Flashcards are also available for adding visuals to your learning. Other tools include forums, members-only articles, badges, leaderboards, etc.
Perhaps you don't have access to the internet because of your location or other reasons. You don't have to worry because download the PDF files of Rocket Japanese before the time and use it at your convenience without any internet connection. This is a great advantage for people that may need to move around while still learning the Japanese language.
What are the things we don't like about Rocket Japanese?
Although Rocket Japanese is a great website for learning Japanese, it has certain issues that we don't like. The things we don't like include:
Customer support may be a problem
While using Rocket Japanese, you may have various challenges that can prompt you to contact the customer support team. Unfortunately, we noticed that the team doesn't usually respond on time. Many customers noted that the team is too slow to reply to emails.
The lesson will be first spoken in Japanese, and an English explanation will follow it. The English explanation is usually too wordy. This doesn't only make things confusing for learners, but it can also make learning boring. So, you should bear this in mind before using Rocket Japanese.
Can Rocket Japanese Make You Fluent in Japanese
Rocket Japanese can make you fluent in Japanese to a conversational level. That is, after completing the course, you should be able to have meaningful conversations in Japanese without much challenge. However, it will take a lot period to become fluent in the language if you are only relying on this course. But if you are using only Rocket Japanese, you can never speak Japanese like a native speaker.
Various features of Rocket Japanese
In general, Rocket Japanese has been created for new learners that are looking for ways to become fluent in Japanese. Hence, the lessons are designed in a simple and understandable way. Even if you have never attended any class for Japanese, you can use Rocket Japanese.
Some of the features of Rocket Japanese include:
For a foreign language like Japanese, pronunciation is usually a challenge for new learners. The creators of this course understand this fact; hence, Rocket Japanese comes with a detailed pronunciation practice section. This particular section will help you to practice how to pronounce Japanese so that you can be fluent in the language.
Audio and culture lessons
When learning a new language, one of the ways to familiarize with the language is learning more about culture. Therefore, Rocket Japanese has sections dedicated to the culture of the Japanese people. You can also use the audio section to improve how to speak the language.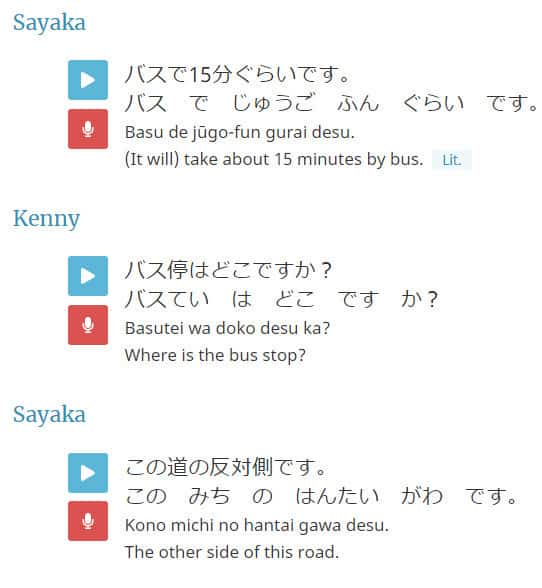 As you are learning Japanese through Rocket Japanese, you may encounter a wide range of issues. Thankfully, Rocket Japanese has a community forum where different learners can meet to discuss their experiences. Also, this forum can go a long way in helping you to solve any challenge that you may have as you are learning the Japanese language. Hence, it is one of the great features of Rocket Japanese.
Flashcards are additional tools for learning Japanese through Rocket Japanese. These flashcards give you opportunities to study the language through visual means.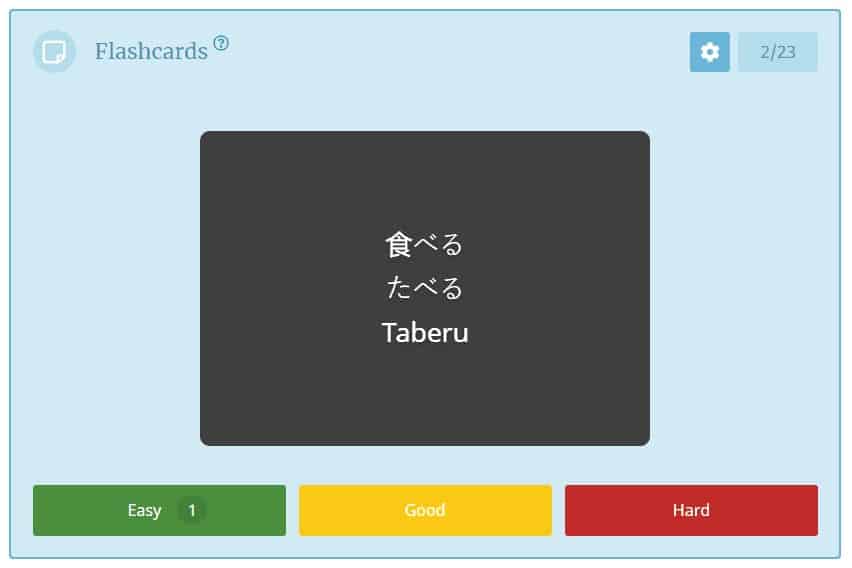 Availability through different platforms
Perhaps you prefer learning Japanese on a large screen, then you can take advantage of the availability of Rocket Japanese in the web version. This web version loads quickly and provides -quality content that can improve your learning speed and accuracy.
However, if you want to continue studying the Japanese language on the go, the mobile version of Rocket Japanese is what you need. Since the app is available for Android mobile devices, iPhones, and iPads, you cannot have issues with compatibility. This fast-loading mobile app gives you the same content available on the web version of the course. Besides, it allows you to have quicker access to the learning platform.
You are less than 60 seconds away from getting started.
Ready to not just speak Japanese, but to become part of Japanese culture? Take a free trial to discover how Rocket Languages does more than give you a new vocabulary.
We immerse you in new places and cultures.
Verdict
In a nutshell, you can depend on Rocket Japanese to learn Japanese to a conversational level. Although it can also help you to become fluent in the language, it will require lots of time and effort as it is not usually as fast and reliable as classroom learning. Nonetheless, you can use Rocket Japanese to learn Japanese at your own pace without any hassle.
My Recommendations for your Japanese learning
Japanese JLPT N5 Test Prep-course - The Expert Secret Check Here
Rocket Japanese My Honest Review Read more
Japanese Pod 101 My Honest Review Read more