My review of JapanesePod101 is based on this. The courses I review are broken down in detail, including what you will learn, how much they cost, and how they compare to other learning methods.
The two most important things to consider when choosing a language learning course are price and effectiveness. It doesn't make sense to spend too much time or money on a course that isn't effective for you.
Learning Japanese online is made easy with JapanesePod101. You should make sure it's right for you before enrolling in a paid course.
What Is JapanesePod101?
JapanesePod101 has been providing online Japanese courses Since 2005.
As the name suggests, JapanesePod101 teaches primarily through podcasts. Thousands of podcasts can be downloaded from the JapanesePod101 website. Lessons are categorized and structured by topics and language levels. 
The courses are accompanied by audio podcasts, lesson notes, grammar explanations, and interactive quizzes. Lessons, including video lessons, are posted regularly. 
 Can you learn Japanese from JapanesePod101?
You can learn Japanese online at JapanesePod101 with thousands of hours of lessons and many other useful resources. My favorite way to study Japanese is by listening to podcasts.
A core component of JapanesePod101 is the main lesson series. You will learn step-by-step according to your current skill level.
There are five main levels in JapanesePod101 courses: 
Absolute Beginner: The basics of Japanese, such as greetings and handwriting
Beginner: Introduction to polite Japanese conversation
Intermediate: Using Japanese in everyday situations
Upper Intermediate: Speaking Japanese in formal contexts
Advanced: Japanese for Business  

Additionally, each level has a series based on a specific topic. There are approximately 100 lessons and assignments in each series. They last between 10-15 minutes.  If you select a level, you can learn at your own pace It would take approximately 120 hours to listen to all of the lessons in all five levels.  Students at the Upper Intermediate level are taught the JLPT N2. 
My favorite thing about JapanesePod101
There are two important aspects to learning a new language:
1# A great deal of content – either listening to or reading.
It is important to select content that is not only interesting and engaging, but appropriate to your current level of knowledge while challenging you just the right amount.
As far as quantity and quality are concerned, how does JapanesePod101 fare?
First of all, it has a huge selection of content. There are 6935 video & audio lessons included in a JapanesePod101 membership as of this writing. Adding high quality audio and video content is absolutely incredible, as the staff continues to do so. Considering learners by level, there are the following:
Beginner's Course: 1,629 audios and videos as well as 445 assignments in over 67 lesson pathways
The beginning course offers 1,641 audio and video lessons and 320 assignments divided into 58 modules
During 27 modules you will find 894 audio and video lessons and 199 assignments
The Upper Intermediate course consists of 584 audio and video lessons and 203 assignments divided into 17 modules.
The advanced course includes 632 audio and video lessons and 124 assignments spread over 17 different modules
Additional bonus: 1555 audio and video lessons spread over 10 modules with zero assignments
That's literally ten's of thousands of hours of content that, if mastered systematically, would provide a solid foundation for Japanese proficiency. Japanesepod101.com gets two thumbs up regarding quantity.
In what way does quality measure up? Instruction is recorded professionally and is engaging. This is much more than your average Japanese audio course. This content was clearly created with love and with a lot of effort. The tutors explain all cultural information and keep the lessons lighthearted and fun.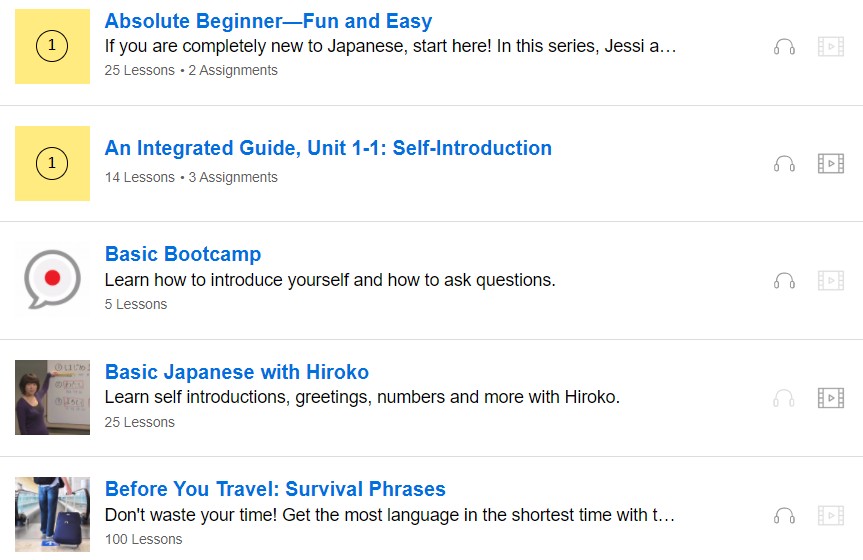 2# Thoroughly Explained Lesson Materials
Taking the time to provide detailed descriptions of the formats and resources included in the JapanesePod101 library is another cool feature. You are provided with:
You can listen to or watch the entire lesson. Recorded transcript (with line-by-line transcription)
It only contains Japanese dialogue (no English)
Notes on the lesson
An image of Kanji in close-up
An overview of the lessons
You can download both MP3s and PDFs
Shortly put, the resources provided are comprehensive. I'm glad to see a provider that cares about its audience and covers all possible bases, since the market is so full of incomplete courses.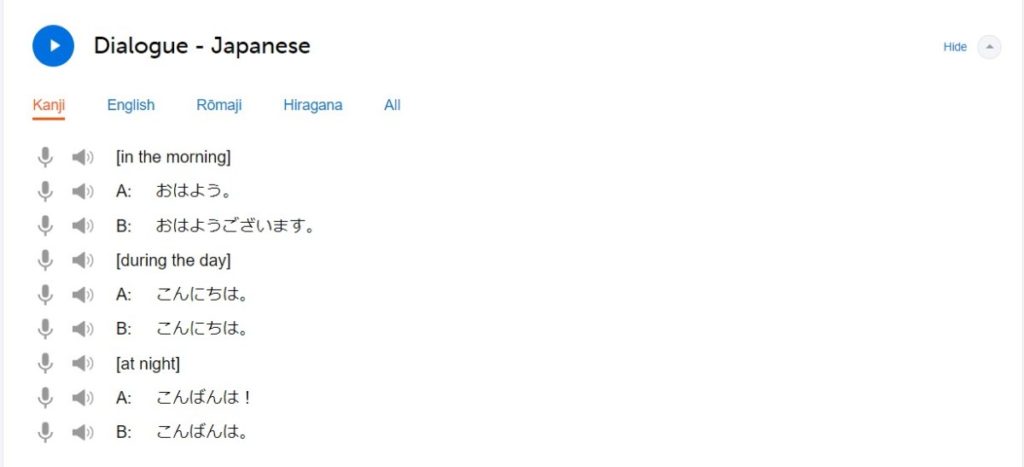 How expensive is JapanesePod101
Check out free coupon Save 50%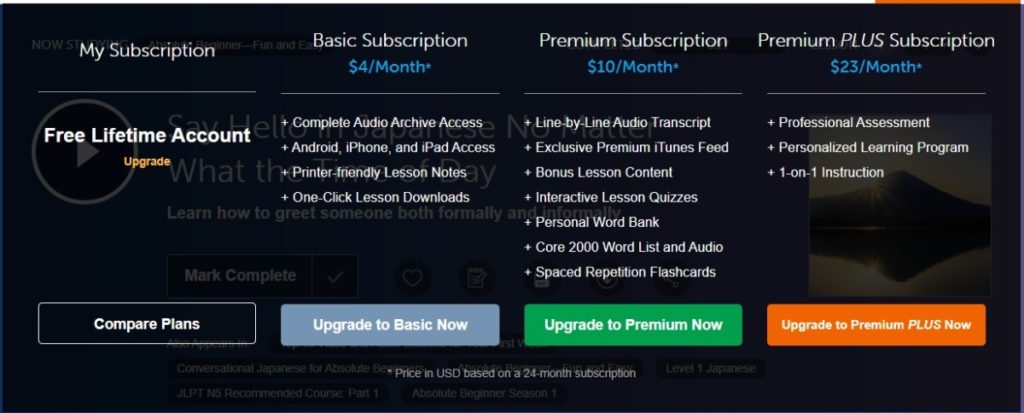 Free Account
Do you really get free access to Japanesepod101? Certainly! You can create an account for free. You only need an email address to sign up. You will be able to access the first 3 lessons of each pathway as soon as you sign up for a free account. This means a lot of free content!
All of the new lessons (2-4) that are released each week will be accessible to you as well. After 3 weeks, new lessons are archived. Then you will need to upgrade to a paid membership.  
You will likely be offered a free one-week trial of the premium subscription level after signing up for a free account. For those who want full access to all of the lessons and tools on the site, this is a good option. 
Japanesepod101 offers four types of subscriptions. These are the benefits for each level.
Basic Subscription
With a multiple month subscription, the price goes down to just $8.00/month.
All audio and video lessons available along with the accompanying lesson notes are included in the basic subscription level. Additionally, you can access 100 items in their "Japanese Core Words & Phrases" list.  
Premium Subscription
When you subscribe to the premium plan, you will have access to all lessons and all the study tools (flashcards, voice recordings, quizzes, etc.).
We will also describe line-by-line the audio description in the lesson.
In addition to the video lessons, you can access the "Japanese Core Words and Phrases" list (2,000 items).
For most people, I recommend getting this level of subscription. Based on the study options and features available, I feel this level provides the best value.  You can get 65% off by using the coupon below!
Access to the lessons as well as the tools on their website costs $25.00 a month. This curriculum covers all aspects of Japanese at an advanced level. 
Premium Plus (+) Subscription
Japanesepod101 Premium + subscribers have one-on-one access to a teacher.
Additionally, you will receive a personalized assessment, weekly assignments, and a personalized study plan.  Initially, it sounds great, but there is one big problem.  
Skype, Zoom, or video chats do not allow direct communication with teachers. Written messages or voice messages must be sent to your teachers instead. 
During your lessons and communication with your teacher, you will improve your Japanese. 
For $47.50/month, you can become a Premium +Choosing this option is recommended if you are going to ask many questions (that cannot be answered in the lessons or forum). comments). If you plan to continue to use a private tutor, it might be better to start with a premium membership and upgrade later.
For the amount of material you receive, these prices seem very reasonable. Our readers can get 65% off a premium subscription if they decide to subscribe.
Check out free coupon Save 50%
Is Japanesepod101 Worth It?
The large amount of lessons and materials it provides make it a great way to learn Japanese online. Several options make premium subscriptions very affordable.  
With its new format (everything on one page) and study options, Japanesepod101 is difficult to beat.  
It was enjoyable to listen to these audio lessons, and I learned a lot. It is possible to understand Japanese grammar by breaking it down by very talented teachers.
The new grammar was also explained to me when and how to use it. Once you complete the course, you will be able to speak naturally in Japanese with native speakers.
Your journey to becoming fluent in Japanese can be made much easier with Japanesepod101. In deciding to improve my Japanese, I'm glad I chose Japanesepod101.
If you're unsure whether Japanesepod101 is right for you, you can sign up for a free account and try out lessons.
I would appreciate your comment if I missed something in this Japanesepod101 review. Whenever you have a question about learning Japanese, please contact me via email or comment. It would be my pleasure to help you.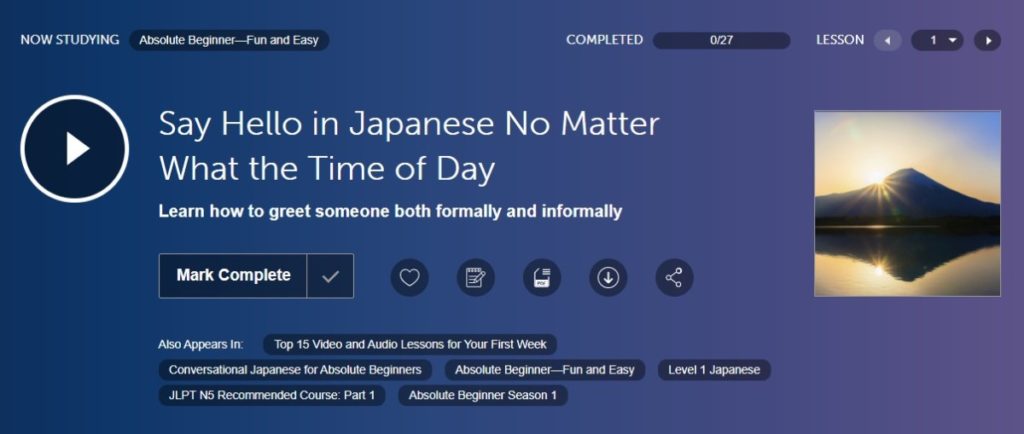 How reliable is JapanesePod101
With thousands of hours of lessons and a host of other helpful resources, JapanesePod101 is a genuine, legitimate site for learning Japanese online. Podcasts are my favorite method of learning Japanese because I can fit them into my day easily. I am happy to say that it is worth it.
There are thousands of hours of lessons, and plenty of other useful resources on JapanesePod101, a legit site for learning Japanese online.
Podcasts are my favorite method for learning Japanese since they're the easiest way to fit it into my schedule.
My commute to work and walking to work involve listening to the Japanese 101 podcasts. As soon as I have time, I go home and review the PDF lesson notes. The new words are also added daily to my flashcard deck, and I review them whenever possible.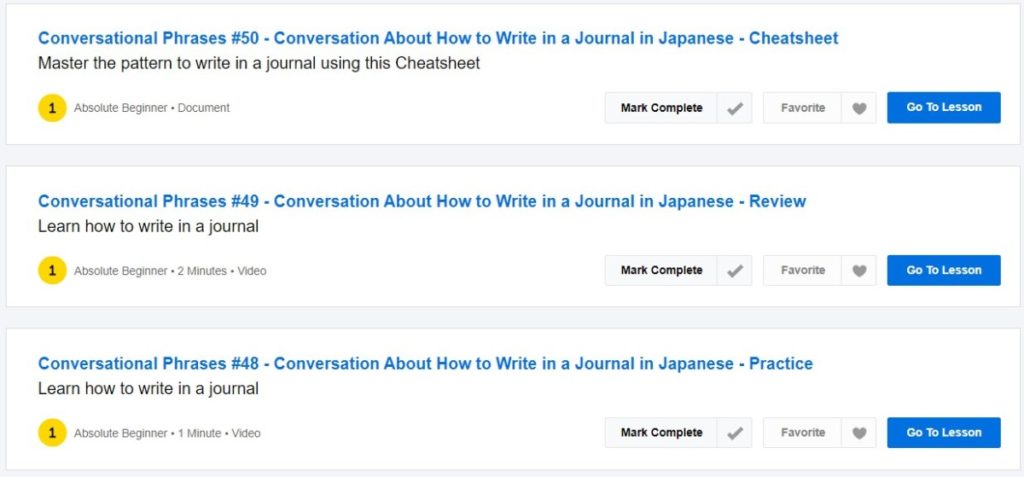 JapanesePod101's 20 minute audio tracks are easy to fit in even on busy days.
The grammatical bank can also be searched. As part of my preparation for the JLPT, I used this a lot.
There are a lot of variations in the price of JapanesePod101, depending on the length of the subscription.
When possible, I use coupon codes and purchase the longest subscription available. If you sign up for the free plan, wait a couple of weeks before upgrading. They will send you coupons big and small to try and make you upgrade. Also, they regularly email JapanesePod101 coupons around the holidays and for all kinds of special occasions.
Does JapanesePod101 teach Kanji?
Yes, There is a Kanji lesson in Japanesepod 101 . you'll learn exactly what kanji is and why you  need it, the best method of learning kanji, and about the building blocks that make up a kanji character.  You'll learn some of the most useful Japanese kanji characters along the way and the best method for learning them! 
That's the case! You can rely on them to help you along.
During this first episode, you will learn what kanji is and why you need it, how best to learn it, and what makes up a kanji character.  Instead of learning kanji characters one-by-one, we learn them as building blocks. There are only a few radicals you need to learn to be able to read some of the most common kanji characters. You will learn 10 useful radicals that will get you started learning kanji quickly and easily in this series.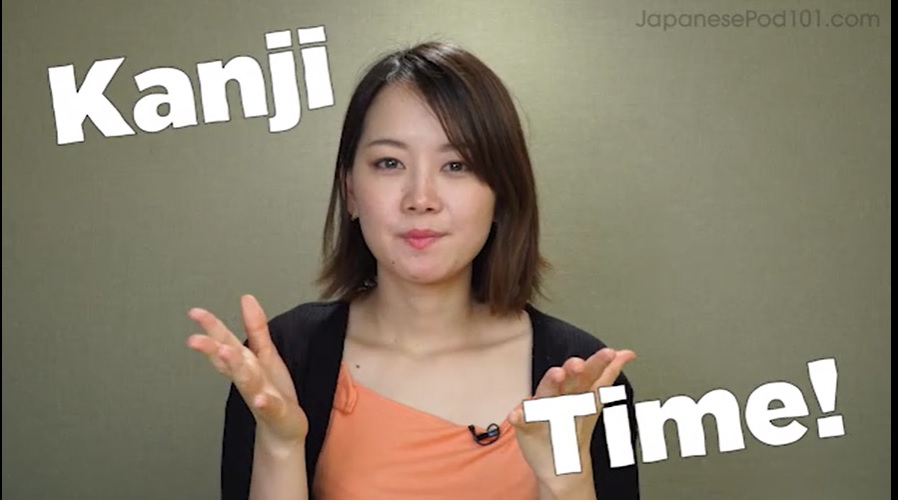 Is Premium Plus worth it JapanesePod101
As a Premium Plus member, you have access to everything on the site, plus one-on-one instruction with a personal Japanese tutor! You get custom lesson plans tailored to your needs, and you can send in questions whenever you want. Compared to hiring a personal tutor, this is the most expensive of JapanesePod101's services.
My Recommendations for your Japanese learning
Japanese Pod 101 Learn Japanese fast for beginner Read more